Myth #1: Dansko only makes clogs.
Dansko is of course known for supportive clogs that have been loved by healthcare professionals, teachers, and chefs for over 20 years, but over the past decade Dansko has greatly expanded its base to build sandals, wedges, heels, flats, boots, and even hiking shoes that offer similar levels of support and comfort to their legendary clogs. All you need to do is check out current styles such as the Odessa (below left), Olivia, Sabrina (below right), and best-selling Sophie to see that Dansko has successfully grown beyond its cloggy beginnings and into a multifaceted healthy shoe company with a little something for everyone.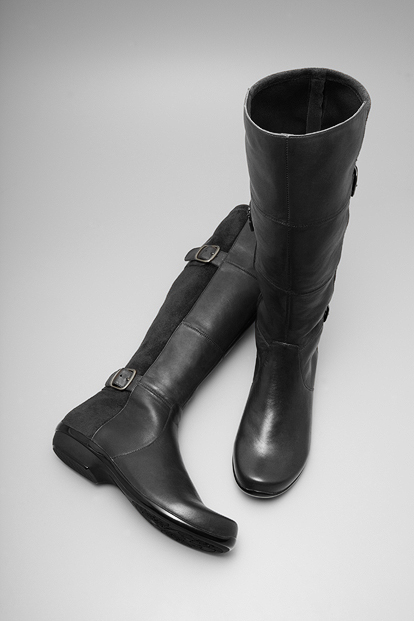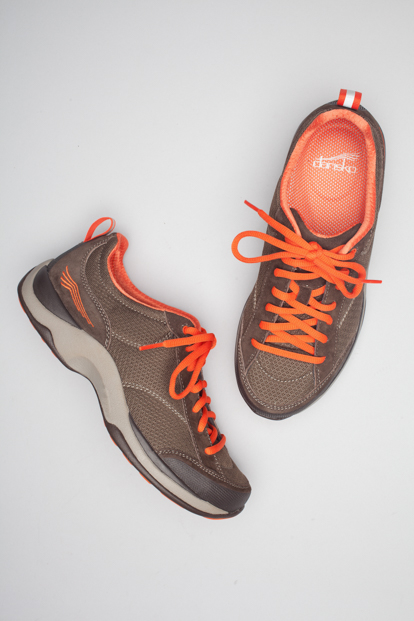 Myth #2: Dansko shoes are clunky and heavy.
Well, for those of you who have embraced the normcore movement, you may fully appreciate how wonderful supportive yet clunky shoes can be.
But I am fully aware that normcore has its limits, so I'll offer you the following…
Yes, the classic Dansko Professional clogs are built with a very durable and supportive sole that can seem stiffer than other shoes in your closet, however due to the extremely durable nature of the sole material, Dansko clogs are able to maintain continuous levels of support over the life of the shoes. Many other mass market shoes that use overly-spongy foams under the feet break down relatively quickly, and when this happens you lose support. Of course, as noted in myth #1, Dansko has developed dozens of styles recently that use softer, lighter, and more flexible materials underfoot than their Professional clogs. These new designs, such as the Allison, the Elise, and the Jovie, use durable, supportive materials that are much lighter and more flexible than what you might expect. It is with these designs that Dansko has put to bed the notion that they make only clunky and heavy shoes.
Myth #3: I have a Dansko clog, and I would like to try a different style. I should be the same size in my new style, right?
Not necessarily. Like most shoe companies, Dansko produces some of their shoes on different lasts (the form that shoes are built on) which can affect sizing. Some Dansko shoes also feature hand-made elements, and this of course can affect sizing as well. One of our most popular Dansko lines, the Pro XP clogs, run about a half size larger than their counterpart Professional clogs. Our best advice here is to contact our experts at 1-800-336-6657 if you have sizing questions or to visit one of our stores and try them on for yourself.
Myth #4: Dansko only makes shoes for women.
Dansko offers a line of clogs and other work-style shoes for men that offer great all-day support and durability. The Walker is one of our best-selling models, and it even outsells many women's styles. Think guys don't wear clogs? Well, thousands of chefs, doctors, teachers, and other professionals may disagree with you. I actually own two pairs of Pro XPs myself, and they are some of the most supportive, comfortable shoes that I have worn. So, gentlemen, are you man enough to take on a Dansko clog?!
Myth #5: Dansko is just another big shoe conglomerate owned by some far-off unseen entity.
Dansko is very much a home-grown American success story. Pennsylvania-based husband and wife team Peter Kjellerup and Mandy Cabot formed Dansko 23 years ago after visiting Europe and falling in love with European clog designs. Dansko has grown to currently employ about 180 people in its Pennsylvania headquarters and warehouse. In 2012, the company proudly announced that they had become 100% employee-owned, and Mandy has served as CEO for many years. What's more, Dansko has been a leader in environmental sustainability as well. Both its headquarters building and warehouse are LEED Gold Certified.
If you would like to inquire further about Dansko shoes, please call our customer service experts at 1-800-336-6657 or visit one of our 10 stores.
Every Shoe, Sandal, Clog and Orthotic is on sale! Save $10-$20-$30 NOW on virtually everything in our stores, but only at one of our 9 Florida retail locations.
Hurry in today. The sale ends November 18.
While at Happy Feet Plus stores ask for a FREE digital foot analysis. The analysis identifies "hot" spots on the soles of your feet and helps the Healthy Footwear Specialist select footwear to help you feel better.
Who better to comment on the quality and comfort of Finn Comfort footwear than our loyal customers?
Here are just a few of the hundreds of happy customers who have taken time to supply us with comments about Finn Comfort footwear. We really appreciate the positive feedback not only about our website and our customer service, but especially about the products we represent.
Right now we are featuring all of our Finn Comfort products – boots, shoes, sandals, clogs and footbeds – at great savings.
Click Here to view all of our Finn Comfort items. Enjoy the savings!
CUSTOMER COMMENTS:
Several year ago I suffered with plantar faciitis. After cortizone injections offered no relief, I turned to FC sandals (Orb). To my amazement w/in a month or so I felt 95% better. Just recently, I started having issues with pain in the ball of my foot. Once again I have turned to FC. As long as I have them on, I experience NO PAIN. I am certain it will be a matter of time and my problem will be 100% alleviated. True they are expensive, but hands down it is a far less expensive course than surgery!
The name says it all. I had foot surgery soon after receiving my order. I'm in my second week of recovery and these shoes (Jamaica) offer unforgettable comfort, on both feet.
Have worn this style (Vaasa) for over 30 years and still love it!
Fit was perfect. I like being able to adjust the straps when my feet swell. Sizing was accurate. I found the shoe (Jamiaca) I was looking for very easily. Check out was easy as well. The price was better than any other website.
Your website is by far the best source for Finn Comfort shoes! I have been wearing Finn Comfort Shoes for over 20 years. Nothing else compares. Size 46 always fits from the first day. As a bonus your prices are the lowest available.
This is the most comfortable pair of shoes (Vaasa) I have ever had. I feel I can walk fore ever in these shoes and I have. No other shoe comes close for a everyday shoe, Don't miss this one.
This is my sixth pair of Finns (Jamaica). They are one of the few shoes that will fit my high arch and let me adjust the pressure across my bunions. Thank you for carrying this brand.
I like these shoes (Orb) very much. In three weeks my plantar fasciitis has improved dramatically- one foot is nearly back to normal and the other is about 75% better. I plan to buy Finn shoes for most all of my needs in the future. Fit is good, but I am between 38 and 39- 38 just barely long enough with thin socks; 39 a little big without thicker socks- so I went with the 38 and thin socks.
Are you a chef, cook, or some other culinary professional. Footwear can be a problem for y'all. You're on your feet all day, so your footwear has to be comfortable and have good support. Something that's waterproof would be good too. Easy to clean would also be nice. How about a little color? I think I might have just the thing you're looking for.

Super-Birki clogs have been a favorite of kitchen staff for a long time. The removable cork footbeds make the long days a little bit more comfortable. Good support for your feet helps keep your knees, hips, and back from rebelling and allows you to better focus on your job. At the end of the day, pull out the footbeds, set them aside to dry, and with some hot water and a little scrubbing of the outers the Super-Birki's are ready for your next shift.

You say that you want a color other than black? How about a blue, or burgundy, or brown, or rose, or even red! Don't forget to get a second set of footbeds. Your cork footbeds do need time to recover their resiliency. Swapping foobeds every other day will make them last longer and ensure you're getting optimal support.

If you sometimes work in an exceptionally wet environment you might want to purchase the polyurethane replacement footbed (item number 025501). It also features a quick-drying microfiber footbed liner so clean-up is fast and easy.

Check 'em out today by visiting happyfeet.com/super-birki. They would be a great Christmas gift too.

Great footwear at great prices. What a great deal! Stop by a Happy Feet Plus store near you and save.

Regards,

Dave
We occasionally get calls from customers who don't understand the Birkenstock box and footbed labeling. Here's a short tutorial that should clear up most of your questions.

All Birkenstock brands (Birkenstock, Alpro, Birki's, Footprints, Papillio, and Tatami) use similar labeling.
The important elements on the BOX LABELS include:
Width Footprint (A)
Sizes in Euro, Metric, and U.S. (B)
Item Number – including width reference (C)
Other Info – product image; product name; upper material and color; footbed liner material, footbed material, upper material, sole material
Likewise, all Birkenstock brand FOOTBEDS carry very similar markings:
Width Footprint (A)
Sizes in Euro, Metric, and U.S. (B)
Manufacturing Run Sequence (D)
OK, let's take them one at a time.
The Width Footprint may display one of three images:
Regular (A1)
Medium (A2)
Narrow (A3)
All item numbers (on the box labels) end in either a 1, 2, or 3. Items ending in "1″ are regular width. Items that end in "2″ are medium width, and those that end in "3″ are narrow width.
The sizing information (B) provides length references. The top number represents the Euro size. Euro sizing does not differentiate between men's and women's – a size 42 is a size 42 whether it is a men's style, a women's style, or a unisex style.
The middle number is the metric measure. It is an absolute measurement in millimeters. Typically this measure is from the back edge of the heel cup to the front edge of the footbed "lip".
The bottom number(s) is the U.S. sizing. Normally it will list the ladies size equivalent (L) and the men's size equivalent (M). In the smallest and largest sizes only a ladies or men's size may be shown.
Finally, many but not all footbeds will have a manufacturing run sequence number (D). This has nothing to do with size. It is a sequential number used during manufacturing to keep left and right shoes matched up. This number ensures that the carefully selected matched leather for left and right shoes is kept together.
Hopefully this will help you get the right fit whether you're buying for the first time or the hundredth time.
Great footwear at great prices. What a great deal! Stop by a Happy Feet Plus store near you and save.
Regards,
Dave
| | |
| --- | --- |
| | Last weekend I did a clean up on my Birkenstock Arizona sandals. Part of the process was giving the exposed cork a healthy dose of Cork Life. It was apparent that I had exposed the Arizonas to a bit too much water. The cork was dull and dry. They really needed the Cork Life to seal and protect against further damage. |
| | |
| --- | --- |
| Proper maintenance of the cork will help you get the maximum life out of any sandal or clog. So, how do you know if you need to add a coat of Cork Life? Here's a picture of a sandal that needed Cork Life a long time ago. Notice how the cork appears dried out and pieces have broken off. Also, the suede footbed has separated from the cork. The only course of action in this case is to replace the footbed and sole. A $5.99 bottle of Cork Life is a lot less expensive that $65.00 refurbishment. | |
As a side-to-side comparison, here are two sandals in differing states of need. The one on the left recently had a new coat of Cork Life applied to it. The sandal on the right is begging for a recoating – notice the dull appearance of the cork. You should apply Cork Life once a month or so, or when the cork looks dull.

In ten minutes you can wipe down the cork and add a healthy coat of Cork Life. With proper maintenance you Birkenstock footwear will last a good long time.

Great footwear at great prices. What a great deal! Stop by a Happy Feet Plus store near you and save.

Regards,

Dave
| | |
| --- | --- |
| | They may look like twins, but there's a big difference. Both have slip-resistant soles but the A640 has a steel toe. Although the A640′s are a bit heavier, they're able to protect your toes from the accidental drops and bangs. Whichever you choose your feet will be comfortable – and you'll be saving 25%. |
As you might guess, my perspective on footwear is biased. Happy Feet Plus sells footwear that emphasizes health and comfort. I look for information that reinforces our opinions on "proper footwear" when I write these blogs. In all of the research I did, as in-exhaustive as it might be, I never saw that anyone recommend that pregnant women should wear pointy-toed high heeled shoes or flip-flops. Instead, the consistent theme is flat or low-heeled shoes with a wide toe box and good support. Hey, that's what we believe too!

So, what's the connection to Edema? While wearing good footwear is important any time, it is especially important when you are pregnant. The added weight and altered center of gravity (see Are You Pregnant and Do Your Feet Hurt?) as well as the fluid retention create changes to a woman's body that require a solid, stable base. Here's where good footwear comes in.

As early as the second trimester you may find your shoes fitting a little bit tighter. They're only going to get tighter so you might as well plan on getting new shoes. The swelling is usually caused by the increase in blood volume needed to transport oxygen and nutrients to your baby. Increasing levels of hormones also change blood vessels, joints, ligaments, and, well, your whole body. No wonder you feel swollen and bloated.

Gravity is largely responsible for fluid retention to be more pronounced in your feet, ankles, and calves. Your growing uterus also puts pressure on the veins that carry blood back from your lower body. Blood flow back from your feet is restricted and fluids stay in your feet and legs. Increases in foot size should be expected, but one foot should not swell more than another. If you do find this happening, see your doctor.

Until you give birth you're going to have to live with Edema in your feet, but there are things you can do to minimize the impact:

Have your feet measured several times throughout your pregnancy and wear the correct shoe size for your foot.
Elevate your feet as often as possible. Use a small stool at work while seated at your desk.
Wear seamless socks that do not constrict circulation or wear surgical stockings — with advice from your doctor.
Keep active, but see your doctor before starting an exercise program. Walking is usually recommended. Try lying on your back and simulating riding a bike. This will exercise the muscles in the leg and reduce swelling.vDo not stand for long periods of time. Walking gets your calf muscles working, which helps pump some of the extra fluid out of your legs and feet.
Take a bath or go swimming; the water puts an outside force on the swelling and helps to decrease it.
If you are driving for a long period of time, take regular breaks to stretch your.
Sleep on your side, not your back. This relieves pressure on the vena cava, the largest vein leading to the heart. Otherwise, the pressure slows the blood returning from your lower body.
Consider reflexology to help decrease the swelling (or buy our exclusive Kenkoh Reflexology Sandal).
Eat a well-balanced diet and avoid foods high in salt that can cause water retention.
Drink plenty of water to keep the body hydrated. This helps the body retain less fluid.

Here are some shoe-buying tips:

Choose shoes with a broad base, and a short heel.
Choose shoes with a toe box that is high enough and wide enough to comfortably fit, either rounded or square shaped, not pointed.
Choose shoes with extra shock absorption, a supportive arch, and firm heel.
Look for a walking or athletic shoe with good shock absorption.
Visit a local Pedorthist for a shoe-fitting recommendation. Pedorthists specialize in fitting shoes and orthotics to alleviate foot problems.
Periodic measuring is recommended because the feet may increase in size during the pregnancy.
Shop late in the day. Feet tend to swell as the day goes on.
Be sure that the shoes fit properly before you leave the store.
Buy boots with room in the calf area, because your calves may swell. Also choose a boot with a side zipper — they're easier to get on and off than a pull-on style.
Replace worn heels often. Uneven heels can throw you off balance.
Wear comfortable, supportive footwear, ideally with a strap, laces, or Velcro.

Great footwear at great prices. What a great deal! Stop by a Happy Feet Plus store near you and save.

Regards,

Dave
OK, so I'm a guy and can't fully appreciate the effects that pregnancy bestows on a woman's body. Although if I knew then, when she was pregnant oh so many years ago, what I know now my wife would have been at least a bit more comfortable.

You may hate for saying this, but do your toes look like sausages stuffed into your shoes? It's not your fault, you've just got the wrong shoes. Normally a woman will wear a half size or even a full size larger, even after delivery. Sorry, but that's all part of the process. Don't fight it, recognize it and wear what fits and is good for you. You'll definitely feel better.

Let's start at the beginning, well not the very beginning. We all know pretty much know how what happened there. But once you're pregnant things start happening. The most obvious change is the belly-bump and the corresponding weight gain. Center of gravity changes and the added weight affects everything from the hips to the soles of the feet – and everything in between. You'll also start retaining water and edema will make your toes feel like those little sausages. I'll talk more about edema next week.

Often referred to as "flat feet", over-pronation is a common result of being pregnant. To compensate for the added weight, a woman will adjust her walk by tilting her pelvis forward, curving the lower spine. This changes the pressure on the feet, resulting in the over-pronation. The arches flatten and the knees can tilt inward. The plantar fascia (the muscle/ligament that makes up the medial arch) is stretched and aggravated. But wait there's more.

Among the hormones now surging through your body is relaxin. The hormone relaxin is 10 times more concentrated in the female during pregnancy. Relaxin enables the joints in the pelvis to relax and allows the baby to pass through the birth canal. Unfortunately relaxin affects all joints and ligaments, including those in your feet. The relaxing ligaments make the over-pronation condition worse.

You might wonder what Happy Feet Plus can do to help pregnant women. The quick answer is arch support. While there's more to it than that, arch support is a great place to start. Any pair of footwear with good arch support (e.g., Birkenstock, Alpro, Birki's, Footprints, Papillio, Tatami, Finn Comfort, Kenkoh) will help resolve your over-pronation issues which will help alleviate any knee or hip pain. Also affected by the presence of relaxin and impact of the weight gain are the other two main arches in the foot – the metatarsal and lateral arches. Footwear that is good for you will support all three arches and help keep your feet from aching.

An added benefit of wearing good footwear is that they most often have a wide toe box. You already know that you're not going to fit into your pointy-toed high heels while you're carrying your "little bundle of joy". Now would be a great time to get a pair of shoes, sandals, or clogs with good support and some space in the toe box. By wearing these shoes now, as well as after you deliver, you'll be avoiding bunions, ingrown toenails, corns and calluses. Who wants any of those?

Being a mom means many things. Your responsibilities increase and you need to feel good. Why not start with having feet that don't hurt? At least one part of your body will be happy and happy feet are, well, happy feet.

Great footwear at great prices. What a great deal! Stop by a Happy Feet Plus store near you and save.

Regards,

Dave